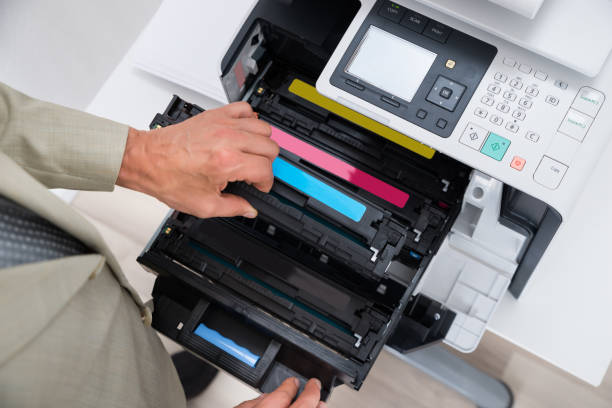 Many of us know what copiers and printers look like. We see them everywhere, be it in offices, schools, libraries, and printing shops. But what is the difference? Is there a difference? Let's find out!
Whatis.com says a printer is a gadget that receives texts and pictures from a computer and moves the data to paper.
Printers vary in size, speed, and cost. It depends on what kind of material you are printing. More expensive printers print out higher-resolution color printing.
Printers are useful when you need to print something off the computer. They are helpful to photographers when their clients ask for physical copies. They print out their craft in high-resolution printers.
Midshire.co.uk states that the purpose of a photocopier is to produce paper copies of documents.
Copiers are useful to school teachers if they have a book of an activity they want to be copied for their students.
Okay, so we know the difference between the two, but where do we get high-quality printers and copiers?
Copier Lease Miami provides flexible payment terms. This gives the customers the freedom to choose the option that fits their budget. Copier upgrade is easier! Customers have access to the latest copier technology without buying a new model.
Copier Lease Miami, company's mission is to provide peace of mind that empowers its customers to be leaders. For over 20 years, the company has been serving clients with the "highest degree of efficiency." They provide on-site repairs and maintenance anywhere and anytime. Clear Choice Technical has 60 service locations with 6000 highly-skilled technicians.
They offer major brands with full warranty. If you face any problems with the following, you can contact them:
Copy machines and Multi-functional devices
Computers and networks
Printers: colors and mono
Fax Machines
Barcode scanners
Photo and Document scanners
Plotters
Binders
Shredders
Franking Machines
You can count on us to give you the best document management systems and solutions, as well. – Clear Choice Technical Services.
With their One-Stop-Shop, you will find their high-end supplies will fit your budget. These are:
Copy machines
Fax machines
Printers
Plotters
Photo and document scanners
Barcode scanners
Advanced software
Toner and other consumables
If you are thinking of leasing a copier in Miami, the company offers a wide variety of trusted brands to choose from. The length of time you rent or lease is up to you! There is a wide array of trusted brands you can choose from:
Toshiba
Lanier
Lexmark
Gestetner
Samsung
Konica Minolta
CopyStar
Pitney Bowes
Ricoh
Ricoh
OCE
Canon
Sharp
Savin
Kyocera
Bizhub Copier Lease
Kip Printer Lease
Buyers Guide Copier Sales
Pricing for Copier Buyer Zone
Clear Choice Technology offers a service package included in the service agreement. They will send a team of expert technicians that would help you to use your gadgets better. They give the following guarantee to their valued customers:
On-time service by our certified technicians
Service whenever and wherever it's needed
Unlimited service calls with no extra charges.
Best customer help
Flexible payment terms
The company offers consultations on how to use the gadgets that would help add to your income. You can test the many advantages of their products through a free demonstration. With the help of the company's specialists, you can ask about the following:
Managed Print Services
Document Management – Workflow Optimization Solutions
Integration – IT Managed Services
Copier Lease in Miami offers a lot of exciting deals! You can get the best price guarantee if you call the Clean Choice Technical Service.