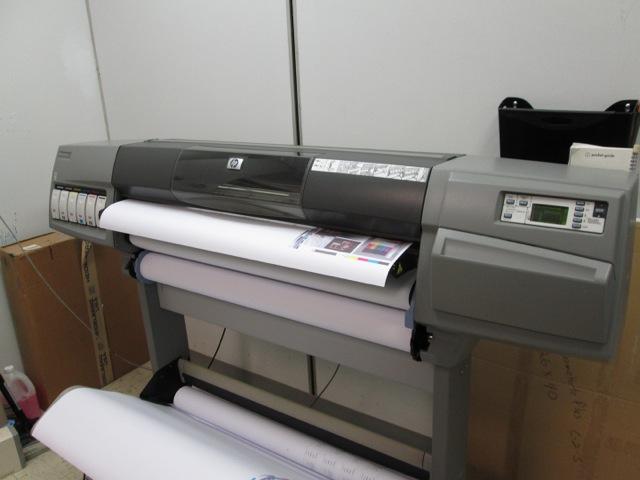 When it comes to printing services in your work or any establishment for that matter, you may think you already have the best quality for a printing tool. Unfortunately, the ever growing and updating technology will continuously prove you wrong. Nowadays, companies always strive to have the latest technology when it comes to their workspaces and IT assets. While this is not true to all, especially with those who are constrained to their software assets, servers, and workstations, the latest office tools will always be boosters to more efficient manpower.
Why do you need a plotter printer?
The reality is that most companies often overlook upgrading their wide-format equipment, another term used for plotter printers, or don't have a wide-format printer at all. If this is your scenario, now is your perfect time to start investing and upgrading your printer plotter that can best cope up with your printing demands. Operating an old model, may still work, but the maintenance and repair work may cost you more than getting a state-of-the-art model.
Why should you buy a new wide-format printer?
Paper is still relevant in construction.
Despite the ongoing debate on whether paper is still essential and eco-friendly, the truth is, it remains one of the most used mediums when it comes to communication. Different industries such as architecture, engineering, construction- all of them have seen a drastic change of its use over the years, but still, these industries cannot deny the importance of hard copies. The whole printer business has decreased collectively, but it remains a vital part when it comes to the overall process.
For instance, there has been a huge spike of printing sets for graphic designs for print ads and some people only want the whole experience of full-size prints. Papers, on the hand, are also very portable.
The digital workflows may have overpowered workflows, but the functionality of printers and papers have not completely vanished, and honestly, it looks like it will never happen anytime soon. Given all of the price drop happening over the years, printing processes and businesses still have strong longevity.
Your old plotter does not function the way it used to.
For the most part, time depreciates all computer systems and technologies, in terms of function and then they become obsolete. Your plotter will most probably get out in the loop not long enough. An old plotter can still perform, but it might not be able to keep up with the latest technologies that are running within the office.
Nowadays, different file types are getting created, and all applications require the latest up-to-date hardware for it to work properly. If your old plotter can still process them, it will usually involve a lot of processing and will take ages to finish.
HP Designjet 5500 series printer is your best bet!
The new HP Designjet 5500 series offers high productivity, uncompromised image quality, and intelligent printing solutions. With intelligent printing solutions, we mean it can simplify workflow and allow unattended printer operation. It is flexible, depending on work environments, and supports multiple ink sets and a wide range of media and production prints. With this HP wide-format printer, it is easy to create a ready-to-sell, large-format document and images quickly.
HP is known to be best at large-format image quality printing. It can make and distribute prints in the fastest speed possible without compromising the quality.
All designers and professionals can benefit from its intelligent printing solutions capability and can simplify workflow and operations. Here are some of the best features this printer can offer:
High Productivity
When it comes to printing, the new HP printer will get your print-ready to sell and distribute. It has production modes that can deliver high-quality professional images at the speed of 100 square feet per hour, for glossy outputs. It can provide at 189 sq ft/hr for coated media and 569 sq ft/hr printing for the maximum speed mode.
Image Quality
The printer works well for high-quality photos in all format types. It has a six-ink, a 1200 dpi writing system, and an HP color layering technology that can provide a wide variety of colors, continuous tones, and smooth color transitions. It can also match any customer or corporate-specific colors as HP Designjet 5500 provides a PANTONE color matching that is helpful for printing. HP is known for its predictable color management system, and it supports offset printing emulations for Apple and Windows products.
Intelligent Printing
One of the best offers this printer has is its support for all multi-platform environments. With the new Web-file submitter, it can provide direct printing without a driver for UNIX, Linus, Mac OS, and Windows environment. With a Web-file submitter, you save time for resending large files as it stores up to 40 GB. It also takes advantage of using a remote management system. HP Designjet also uses a computer's web browser for convenient, remote-controlled printer alerts, job management, printer status, and ink and media use.
HP Designjet Print Quality Settings
When it comes to print quality settings, HP got you covered with different options and optimizable settings you can choose from. Although the production print mode is not selectable directly, you can do it by accessing the quality settings. It means that it has to be done through a special combination of settings.
Optimization Options
The optimization options allow you to adapt to the printing technique of the job that will be printed. For instance, if you are working on drawings or text, it will use a Resolution Enhancement Technology, which is commonly known as REt. As a result of the configuration, it will make the lines and text sharper.
Advanced Optimization Options
For advanced optimization, there are two modes you can try and experiment with. The first one is the Enhanced IQ. It allows you to increase the maximum resolution for different printing modes. For example, if the Enhanced IQ is selected and the quality of the print is Productivity, the resolution will rise from 300 by 300 to 600 by 600. On the other hand, if the print quality is Max, the resolution will increase from 600 by 600 to 1200 by 600. Just be mindful that Enhanced IQ cannot be used together with Production or Max.
The other mode is the fast image printing. It will reduce the resolution of any bitmap included in the drawing. The reason behind that is that it exceeds a specific limit before sending it to the printer. As a result, the maximum resolution imposed by the driver will depend on the Quality selected. The volume of the data sent will decrease when using this option, while the printing speed also increases.
Troubleshooting HP Designjet 5500
All HP Designjet series are wide-format printers and are sturdy enough to work correctly in the long run. Like all machines, they wear and eventually need some tune-up and maintenance. When it comes to troubleshooting and diagnostics, they are relatively easy because all the internal tests built inside the printers come with an extensive error code system.
Common Issues
Some common problems you will most likely encounter are worn carriage belts, trailing cables, and ink tubes. Usually, belt replacement kits are recommended for owners who want to replace the belt themselves; however, there are also copier issues that need immediate attention by experts. Copier repair is normal for printers, and there is a lot of copier repair support that can help you out with the issue.
Repairs and Maintenance
Printer technicians accomplish most repairs as they are quite well-versed in that technology. However, there's been a huge number of owners and IT personnel who are successfully serving their plotters. They do it by following diagnostic procedures and part replacements as instruction in the service manuals.
Interpreting system error codes is never an easy task. But, the service manual can be helpful as it lists possible causes of the problem with their respective error codes and suggested solutions.
If you do not have enough people to work on troubleshooting your plotter, you can always opt for professional repair centers. For example, your can tap on professional copier repairs in Connecticut or companies that send out expert copier support Connecticut personnel.
How To Troubleshoot Your Printer
The most common repairs are related to the ink system, like replacing defective cartridges, print heads, or the entire ink tune system. If you are caught in a situation where your carriage belt failed to function properly or not at all, you might want to call in a technician to work onsite and replace the damaged carriage belt, if it needs replacement.
Most of the time, the technician will take care of ordering a new carriage belt that comes with a belt tensioner, while servicing the machine. Once they have it on their hand, the tech will be back onsite and install it in your equipment.
Having an updated version of a printer will make your working environment run smoothly. Especially if you are running a printing service, a new HP Designjet is your solution. It is an important routine tool to have in your business- a wide format printer and state-of-the-art scanners will never disappoint. There are wide options available for you, depending on your needs, budget, and location. Some people acquire equipment on a lease, and with this setup, they have the chance to change equipment at the end of the term for the latest technology.
If you are looking for a Copier in Miami, you can contact Miami (305) 203-0533. You can ask about Copier Lease in Miami and even Copier Repair in Miami.