In today's business world, copiers are essential. Leasing enables you to obtain the equipment you require without having to provide the necessary upfront cash if you're dissatisfied with your present device or lack updated software.
It makes sense to take the time to carefully consider your alternatives before hastily purchasing the first model you come across because it is so important to everyday operations. When choosing the copier lease in Miami, bear these suggestions in mind.
Upgrade Options
Leasing a copier allows you to upgrade and add features as your office's printing needs change over time. These added features can improve the capabilities of the copier and increase efficiency in the office. It is important to consider which features will be most beneficial for your office's specific needs. The common device of add-ons include:
Options for the tri-folded, booklet, and pamphlet finishing
using card readers to regulate entry
More substantial output trays for continuous, high-volume copying
Options for the hard drive encryption and wiping for increased security
Copy Speed
The speed at which a business printer produces copies and prints is an essential factor to consider when choosing a new office automation device. This speed is often a primary consideration in the leasing process. Additionally, faster printers tend to have a higher copy volume capacity. Leasing a fast copier machine will boost your office productivity and save time.
Additional Features & Benefits
Modern office automation systems provide a vast array of features in addition to the basic feature set. The majority of modern business printers have open-source programming platforms built into their usable touchscreens. Numerous "bolt-on" programs have been developed by software developers expressly to improve your printing, photocopying, and scanning experiences. Keep this in mind when leasing a copier.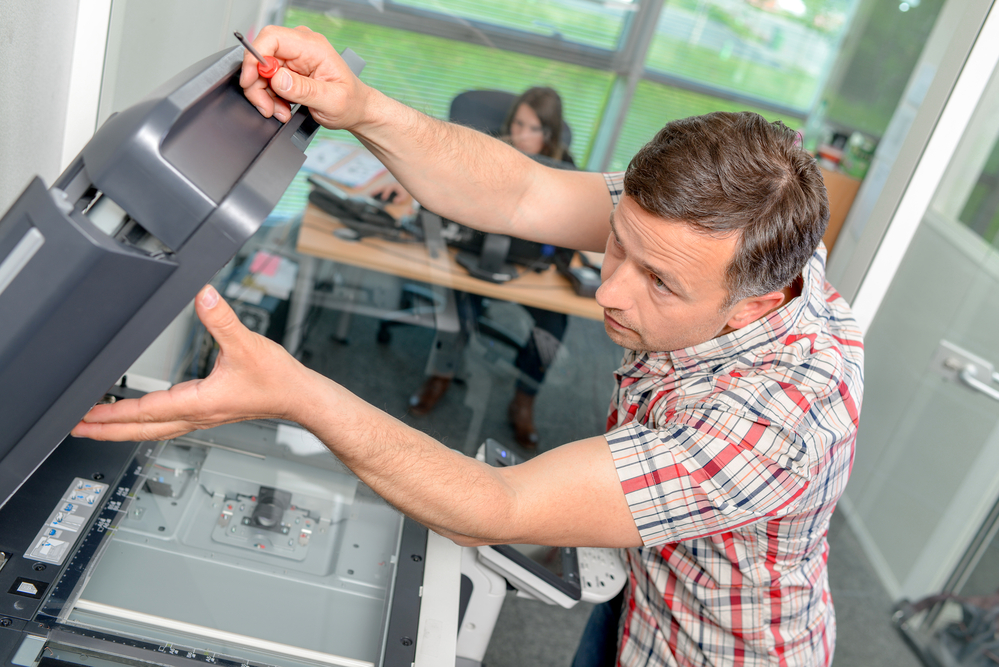 Manufacturer's Reputation
After considering the features, speed, and benefits of an office automation device, it can be helpful to research the reputation and track record of the manufacturer. Clear Choice Technical Services offers a range of reputable brands, including Sharp, Canon, Toshiba, Samsung, and Konica Minolta. Some resellers may have a preference for certain brands based on personal experience.
Price
Pricing is usually an important consideration when buying anything, but market research has revealed that many consumers do not necessarily prioritize price when purchasing office automation. Do remember that it is not just the value of the hardware you will be paying to lease for but also the advanced features and workflow capabilities inherent within the machines in question. Be wise when you lease a copier, choose Clear Choice Technical Services.
Final considerations
Here are a few additional important considerations to make before making your choice:
Can it print in duplex mode (on both sides of the paper)?
If necessary, can it enlarge or reduce the document?
Does it accommodate non-standard paper sizes?
How long does it take for the printer to "warm up" before printing its first page?
Buying a copy machine in Minneapolis is a decision that requires careful consideration. Do not hesitate to get in touch with Clear Choice Technical Services if your business requires assistance in choosing the appropriate printing equipment for its workplace.
Grab Your Copiers Now! Contact Clear Choice Technical Services
After considering the features, speed, and benefits of an office automation device, and researching the reputation and track record of the manufacturer, it is important to evaluate the pros and cons of the different business printer models you are considering.
If you would like expert guidance in choosing the best printing solution for your needs, please don't hesitate to contact our team of solutions consultants at (305) 203-0533. We would be happy to help you find the perfect printing solution for your business.
If you plan to get copiers for your office in Miami, you can opt to buy copiers or lease copiers inMiami. We can give you the option to get the copier that you want.  You can contact our local copier leasing services department in your location.
If your Location is aroundMiami, you may call us at (305) 203-0533), our personnel for copier leasing inMiami will assist you.   If you are also looking for copier repair services inMiami, you may contact our copier repair personnel at the same number.